Pictures: Posted 3 January 1999.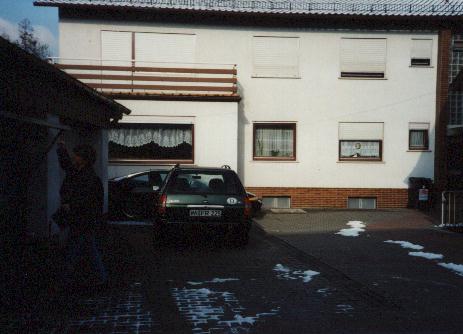 Front of house. This picture was taken when Shirley was visiting.
Monica is opening the garage (on the left) to get the Vette out for
a spin. We live on the first floor, the second floor appartment is
vacant right now. The rooms from right to left are: Small window
is the pantry, then the kitchen, then the dining room and then the
living room.
Okay, here's a shot from down the street. You can see the garage
(with the four glass block windows) and the house sits behind it.
Good shot of our balcony on the left side of the house. This has
two doors connecting it, one from the living room, and one from a
guest bedroom. It's covered with a nice "greenhouse" like plexi-
glass material. Great for flowers. You can even see our satelite
dish on the balcony. The house next door (to the left), or what used
to be a house burned down a year ago. They had just knocked it
down before this picture was taken. The old house on the right
side of the picture was the orginal 1800's farm house. The land-
lord's parents used to live there after WWII with three other families.
It's been vacant and "being remodeled" since we moved here 7 years
ago!
This picture was taken at the edge of our diveway looking to the left.
The place of intrest is the Gasthouse Scholl. Very cool place! Great
food and drinks. Lots of "real" Germans go there. Very dark and smoke-
filled rooms. Everything is made of dark wood (floor, walls and ceilings).
The large "feather duster" that sticks out from the second floor balcony is
a symbol that let's visitors know that this is the "number one" Gasthouse in
the town. They hold the town's annual fest, so they get the honnor of having
the large "dong" stick out of the building!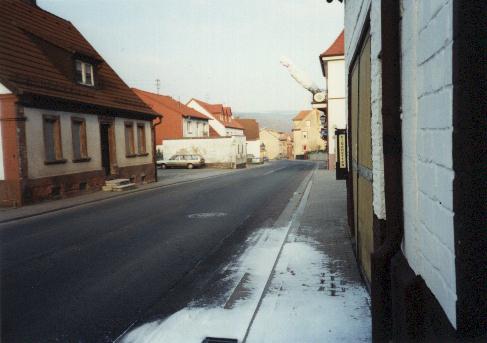 Here we are directly across the street from our house and looking
down the road. On the left side of the picture is the front of the old
farmhouse. Not too much to mention here, just a pretty normal
German village. Notice in the background the high setting horizon -
this town is really down in a valley. We like to walk or bike to the
top of those hills.
Well, there you go. Comments? Requests?